Royal Kona Resort - Kailua-Kona
19.632078

,

-155.990319
Kailua-Kona

,

United States

|
220US$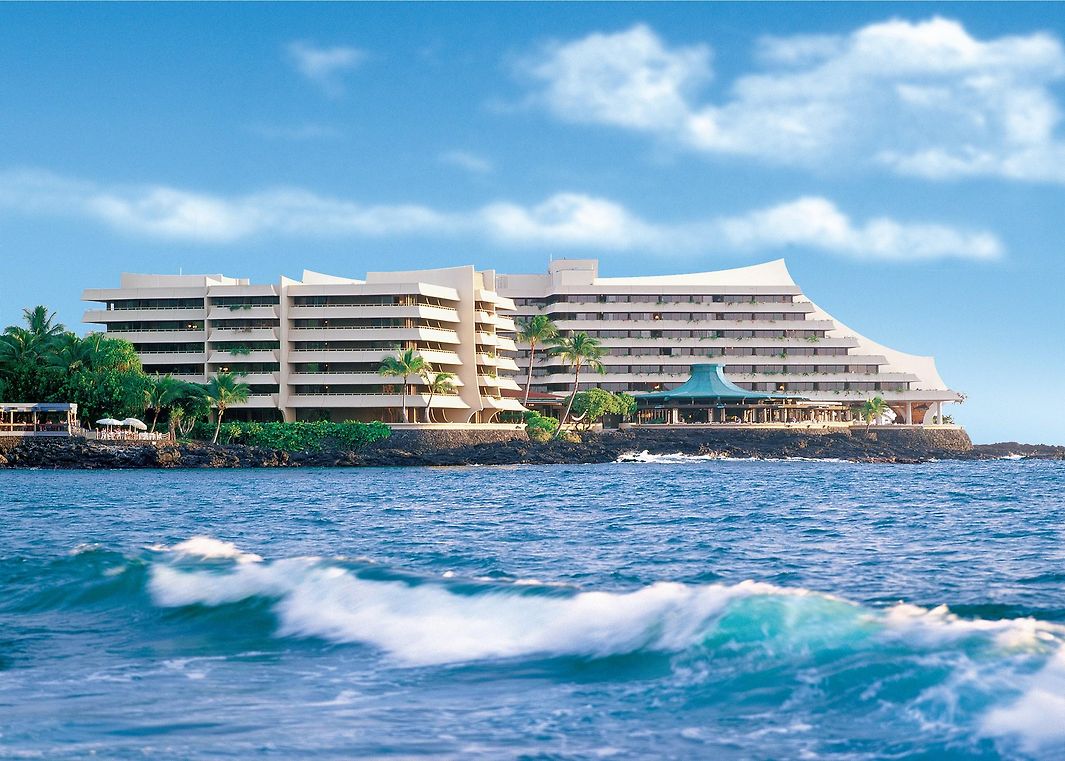 Address
75-5852 Alii Drive
,
Kailua-Kona
,
Hawaii
,
United States
,
96740
, Hawaii
Overview
Within 09 miles from the ancient Ahu'ena Heiau Temple, the 3-star Royal Kona Resort Kailua-Kona offers accommodation with a barber shop and a restaurant. Set within reach of Voyagers of the Pacific Luau, this hotel features an American restaurant serving meals of Polynesian cuisine.
Location
The center of Kailua-Kona can be reached within 15 minutes' walk of the hotel. Magic Sands is a mere 0.3 miles away, and there is Coconut Grove Marketplace nearby. St. Michael The Archangel Church is a few minutes' drive from this accommodation.
Rooms
Some rooms open onto the ocean.
Eat & Drink
Don the Beachcomber, an onsite restaurant, is open for dinner, late night and lunch.
The hotel offers a full breakfast at the price of US$22 per person per day. 
Leisure & Business
For guests with active lifestyle there are also snorkeling and lawn tennis. Royal Kona Resort features a wellness area for guests to relax in.
Internet
Wireless internet is available in the hotel rooms for free.
Guest Parking
Public parking is possible on site at USD 25 per day.
Year renovated:   2010.  Number of floors:   6.  Number of rooms:   436.
Facilities
Most popular facilities
24-hour services
24-hour reception
24-hour security
Private beach
Beach access
Private beach
Sun loungers
General
Free Wi-Fi
Parking
24-hour services
Swimming pool
Air conditioning
Private beach
Fitness/ Gym
Sports & Fitness
Fitness center
Snorkeling
Adventure sports
Tennis court
Yoga class
Services
Room service
Housekeeping
Laundry
Tours/Ticket assistance
Stores/Commercial services
Bell staff/Porter
Dining
Restaurant
Bar/ Lounge area
Picnic area/ Tables
Business
Business center
Meeting/ Banquet facilities
Fax/Photocopying
Spa & Leisure
Outdoor swimming pool
Beach access
Sun loungers
Entertainment
Sun terrace
Garden area
Spa & wellness center
Jacuzzi
Facial
Treatment room
Beauty treatment
Massage
Room view
Sea view
Ocean view
Partial View
With view
Room features
Free Wi-Fi in rooms
Air conditioning
In-room safe
Patio
Terrace
Garden furniture
Tea and coffee facilities
Ironing facilities
Media
Cable/ Satellite television
Telephone
Good to know
Check-in
from 16:00-23:59
FREE
Check-out
until 11 am
FREE
Children & extra beds
There are no extra beds provided in a room. 
There are no cribs provided in a room. 
Pets
Pets are not allowed.
License number
TA-130-995-4048-01
Rooms and availability
Run Of House Room Assigned On Arrival

Bed options:

Max:

4 persons

Bed options:

Max:

2 persons

Bed options:

Sleeping arrangements for 3 persons

Max:

3 persons
Location
75-5852 Alii Drive
,
Kailua-Kona
,
Hawaii
,
United States
,
96740
, Hawaii
City landmarks
Nearby
Restaurants
Church
Mokuʻaikaua Church
3500 ft
Behind the King Kamehameha Hotel
Church
St. Michael The Archangel Church
4200 ft
Gallery
Lava Light Galleries
2900 ft
Gallery
Wyland Kona Oceanfront Gallery
2900 ft
Park
Old Kona Airport State Recreation Area
1.4 mi
75-5782 Alii Dr # 2A
Nana's Clay Flowers
4600 ft
75-5768 Ali'i Drive
Hale Halawai Park
2500 ft
Cemetery
Lekeleke Burial Ground
4400 ft
Hulihee Palace Grounds
2900 ft
Pu'u Wa'awa'a Forest Reserve
4200 ft
Gallery
Kailua Village Artists Gallery
2900 ft
Store
Pacific Vibrations
2900 ft
75-5706 Kuakini Hwy APT 112
Kona Hawaiian Quilt Museum and Gallery
2900 ft
Gallery
Colors Of Paradise Gallery
2900 ft
75-230 Kalani St
Kona Hawaii Temple
1.1 mi
75-5852 Alii Dr
Voyagers of the Pacific Luau
400 ft
Shopping Area
Coconut Grove Marketplace
1200 ft
75-5776 Ali'i Dr
Magic sands beach
1600 ft
Restaurant
Oceans Sports Bar And Grill
2100 ft
Restaurant
Tropical Frozen Yogurts
1200 ft
Restaurant
Island Ono Loa Grill
1900 ft
Restaurant
Umekes Ali'i Plaza
3400 ft
Getting around
Airports
Kona International

(KOA)
9.6 mi
Waimea-Kohala (MUE)
38.5 mi
You can book a shuttle, once your reservation is complete.
Reviews
William

I truly enjoyed to be in this place. I had a really really nice experience here, everything was good, the location was magnificent near to restaurants, town center. Functional rooms, great views of the ocean, the staff was accommodating.

Michael

Had very pleasant stay with value for money, the staff were especially helpful, location was best possible and right on the ocean. We had delicious, wonderful breakfast with great views.

Kent

We had a great stay, the hotel was impressive, clean, with awesome location right on the main street that runs through the center of Kailua-Kona. The service was good, including satisfactory breakfasts and a good pool.

Christopher

It's our place to visit when in Kailua-Kona!

Thomas

Appreciated the breakfast.

Breakfast with great views.

Jack

Deluxe hotel, we loved it.

The place deserved 3 stars. 23 minutes by car from the airport.

Dorothy

Great place for exploring Kailua-Kona. Balcony was a nice surprise.

Edward

Royal Kona - is simply one love. Lobby was great. We enjoyed sitting on the sunny balcony. 20 km away from Kona International airport. The early check-in process too.

Sharon

The location is ideal, quiet... The equipment is optimal: everything you need to cook, snorkel fins, beach towels at your disposal etc... The swimming pool and patio are very pleasant with sunsets at the top.

Carpet everywhere, not ideal compared to the sand you can bring back from the beach... The interior style is a bit old-fashioned

Kevin

Pitch with an ideal location to stay in Kona. The swimming pool is very good. The setting is quite exceptional. The staff is always available. Excellent!

I didn't appreciate the breakfast and pay WIFI. Paid WIFI is from another time. parking is also paying.

Nathan

location of the hotel is perfect. It is located at the end of the shopping street in Kona. It is within walking distance of restaurants and shops. It is situated on the seafront with a beautiful view of the bay of Kona. pleasant swimming pool and lagoon. Spacious room, air-conditioned and comfortable room. hotel offers a luggage service, convenient when your plane takes off in the evening.

The hotel looks a little old. The rooms haven't been refreshed in a long time... Everything is paying... parking ($12 per day), breakfast (at least $20 per person per day..) and even Wifi (we are in 2018 !!!). Every evening the same show was given in the hotel... a little noisy until 9pm...

Alan

Clean, well located in a lively street.

Too expensive, wifi and parking are extra. The fridge is the size of a mini bar. The room is large but not very furnished, it would seem less empty with 1 or 2 armchair(s).

Philip

location of the hotel is ideal, sea view is beautiful, hotel is old-fashioned and, room had a strong smell of humidity and carpets need to be changed. Everything is quite faded in the rooms and corridors. On the other hand, lobby, bar and swimming pool remain interesting with a Hawaiian decor. Also, staff is very friendly.

hotel doesn't seem to have been refreshed since the 1970s. smell of moisture in the room is disturbing and carpets are dirty.

Ray

The location, size of the rooms, availability and friendliness of the staff

Noise: the fans and machinery in the air conditioning units on the terraces or those above the restaurant are very noisy even at night.

Nathan

Location and surroundings of the hotel

dilapidated room and paying for car park
FAQ
What is the closest airport to Royal Kona Resort Kailua-Kona?
Royal Kona Resort Kailua-Kona is located 13 miles away from Kona International airport.
At what time can I check-in at Royal Kona Resort?
At Royal Kona Resort you can check in from 4 PM.
How far is Royal Kona Resort located from the city center?
The city center is 0.7 miles away from Royal Kona Resort.
Does Royal Kona Resort feature any cleaning services?
Yes, Royal Kona Resort offers laundry.
What dining options does Royal Kona Resort provide?
Guests of Royal Kona Resort can choose to dine at a la carte restaurant Don the Beachcomber.
What points of interest are close to Royal Kona Resort?
Landmarks near Royal Kona Resort include Voyagers of the Pacific Luau as well as Magic sands beach.
What leisure facilities can I make use of at Royal Kona?
You can benefit from a sun deck and a picnic area provided at Royal Kona.
Where can Royal Kona be found?
Royal Kona can be found in the very heart of the city, about a 13-minute walk of Mokuʻaikaua Church.
Are there any dining facilities close to Royal Kona Resort Kailua-Kona?
You will enjoy a meal in one of the nearby restaurants near Royal Kona Resort Kailua-Kona, such as Huggo's Restaurant and Don's Mai Tai Bar.
What are the booking prices at Royal Kona Resort Kailua-Kona?
The prices at Royal Kona Resort Kailua-Kona start from $5001.
Does Royal Kona Resort Kailua-Kona arrange any sport activities on site?
At Royal Kona Resort Kailua-Kona guests can try such activities as snorkeling, lawn tennis and golf.